<![if !vml]>
<![endif]>
Alexander Nicholls is an award-winning violoncellist, and musicologist specialising performance and study of eighteenth-century music. He holds degrees in both music performance from the Juilliard School (USA), and The University of Western Australia, as well as a musicology degree from The University of Sydney (AUS). Alexander is currently undertaking his doctoral studies at the Universität für Musik und Darstellende Kunst Wien (AT) under the supervision of Dr Clive Brown where he is studying the violoncello performing practices of King Friedrich Wilhelm II (1744–1797) and his court. His investigations into the music and performing practices of Berlin in the eighteenth-century have led to the production of two CDs of Berlin composer Johann Gottlieb Janitsch [1708–1762] with Brilliant Classics [1-2], as well as co-authoring alongside Univ.-Doz. Dr. Helmut Kowar (Universität Wien) notes for the publication of the Kleemeyer 170 Flötenuhr collection with Cuvillier [3]. The 2022 Dieter W. Bäuerle Award for Music will provide Alexander the opportunity to undertake a digitisation project of eighteenth-century mechanical instruments from Berlin.
[1] Johann Gottlieb Janitsch: Janitsch Trio Sonatas, Berlin Friday Academy, Berlin 2020, Brilliant Classics, EAN 5028421959771, https://www.brilliantclassics.com/articles/j/janitsch-trio-sonatas/
[2] Johann Gottlieb Janitsch: Janitsch Church Sonatas, Berlin Friday Academy, Brilliant Classics, Berlin 2022 [Forthcoming]
[3] Kowar, Helmut: Kleemeyer 170. Dittersdorf, Haydn, Martín y Soler und Pleyel auf den zwölf Walzen der Flötenuhr Nr. 170 von Christian Ernst Kleemeyer, Berlin. Göttingen 2015, Cuvillier, ISBN 978-3-95404-975-2, https://cuvillier.de/es/shop/publications/6954-kleemeyer-170
<![if !vml]>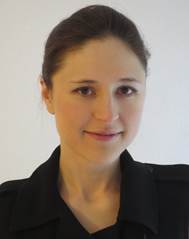 <![endif]>
Dr. Dasha Nelidova is a medical doctor and biophysics researcher at the Institute of Molecular and Clinical Ophthalmology Basel, Switzerland. As an undergraduate, she studied at the University of Auckland in New Zealand. She read medical statistics at the University of Oxford and genomic medicine at the University of Cambridge. Her PhD in biophysics and neuroscience was performed at the Friedrich Miescher Institute for Biomedical Research in Switzerland. Dr. Nelidova works on new translational technologies for treating retinal diseases that lead to blindness [1, 2]. She combines gene therapy, photonics and materials science to bring back retinal sensitivity to light.
[1] Engineering near-infrared vision. Science 370, 925 (2020).
[2] Restoring light sensitivity using tunable near-infrared sensors. Science 368, 1108-1113 (2020).